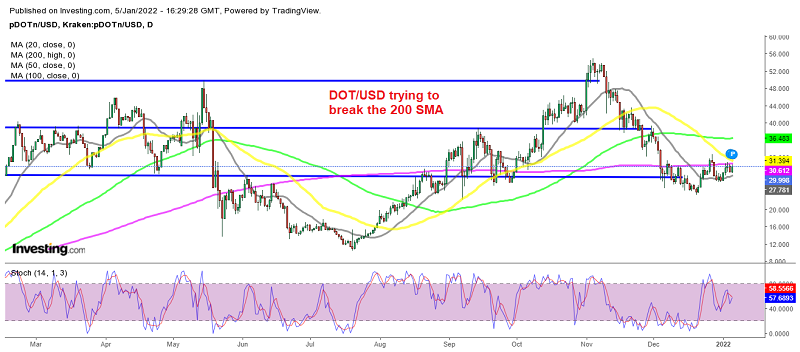 Polkadot and Binance coins were following the crypto market higher from August until November, but the bearish reversal in the last two months in the market has weighed on these two cryptos, especially on Binance which lost more than half its value at some point. Although, the decline has stopped and they are giving signs that they want to turn bullish again, so let's see how the BNB and DOT daily charts look like.
Polkadot Daily Chart Analysis – Buyers to Push Above MAs Soon?
Polkadot has started launching the parachains, which should give a boost to Blockchain interoperability. The first five parachains to go live are Acala, Moonbeam, Parallel Finance, Astar and Clover, offering applications across DeFi (decentralized finance), investments and loans.
Parachains solve the problem for blockchains which need to be able to provide a variety of services and interconnect blockchains together. Although, the release of parachains came in November, when the market sentiment was quite bearish once again and Polkadot has been bearish in the last two months. DOT/USD fell from a high of $55 to $24, although we have seen attempts trying to reverse the trend in the last month. Now the 200 daily SMA (purple) has turned into resistance for Polkadot, although buyers are pushing hard, so there will be a break soon. This retreat is not a bad time to buy DOT coins, since the uptrend will resume soon once the setniment improves in the market.
Binance Daily Chart Analysis – Will Support at $500 Hold for BNB Coin?
BNB coin still trading in the bullish zone
Binance coin BNB has seen the demand grow at a steady pace despite the crackdown on this crypto exchange, which is part of the bigger crackdown in cryptocurrencies globally. Binance has been banned from different countries and fined in others, but it continues global operations as a crypto exchange and the demand remains decent for the BNB coin.
After the increase to $670 by early November, Binance has been retreating lower as a result of the sentiment in the crypto market remaining bearish. But, the $500 level which used to be resistance before has turned into support, holding for nearly two months. WOO Network which has raised more than $40 million in recent months adds significant value to the crypto ecosystem by providing deep liquidity and zero-fee trading both on- and off-chain.
BSC is collaborating with this network and after the WOOFi Swap launch, it should provide liquidity to the Binance Smart Chain. So, BNB is holding the gains at around $500 now and will probably resume the uptrend soon, so this might be a good place to look for longs in Binance coin.
BNB/USD